Activities and places to go around Peyragudes
Pachamama Pyrénées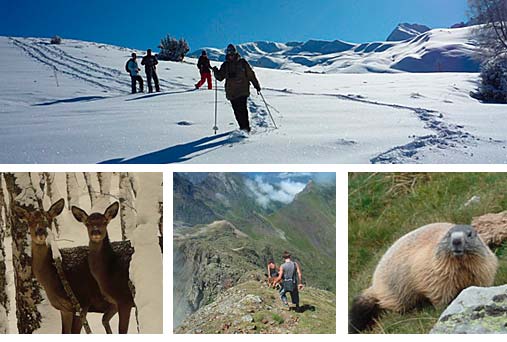 Located in the Louron Valley, Pacha Mama Pyrenees offers hiking and mountain activities for all (families, leisurely walks, sports hiking, bivouaks, sunrise trips) for your holidays in Louron and Peyragudes. In winter snowshoe outings organized in partnership with AP Sports.
Infos et réservations : Yohann Lemonier - 06 01 92 37 58 - www.pachamama-pyrenees.com
Sherpa, base nordique Chiens de Traineaux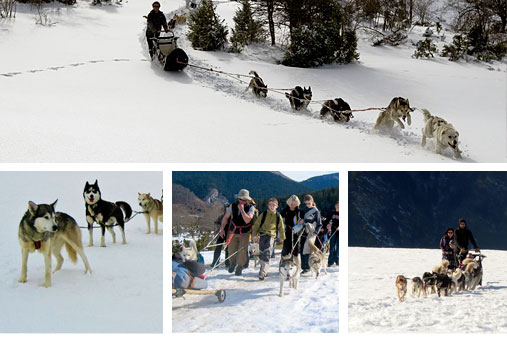 Versant Peyresourde, 5 minutes from the Peyragudes ski resort, the Nordic base Sherpa offers many activities around the snow, sled dogs and the world of trappers. sled baptism Cani-Rackets coupling pipe Native American bivouac
baptême de traineau
cani-Raquettes
conduite d'attelage
bivouac amérindien
Infos et réservations : 05 62 39 33 08 - sherpa-chien-traineau.fr
L'Auberge de Germ

Located at 1300 meters, towards Peyresourde, in Germ in Louron, the Auberge will offer you besides the pleasure of the taste buds, a magnificent sight on the mountains of the top Louron for the pleasure of the places. After your day skiing in Peyragudes, Christophe is waiting for you to concoct traditional homemade winter dishes (raclette, garbure, and tartiflette) or his culinary specialties such as stuffed piquillos, prawns with parsley or its veal axoa Cibourienne way.
L'Auberge du Château

In Genos, 15 minutes from Peyragudes, the Auberge du Château welcomes you every day, midday and evening, in season. Menu and grill menus at the fireplace in the restaurant room. A mix of typical regional dishes and creative cuisine. In an old sheepfold restored in the respect of the inheritance heritage, this warm place thought to the families with its Menu Kid.
Réservations et informations : 05 62 40 92 02 - aubergeduchateau.fr
Le Savon des Hadets artisanal soap in Louron

Soap artisanal Louron, the Soap of Hadets, offers 100% natural soaps. All soaps are made from vegetable oils, essential oils, clay and flowers known to Hadets, these little mischievous Pyrenean mountains. All Hadets soaps contain no palm oil, no preservatives, no parabens, no detergents. In season you can visit the soap factory in Vielle-Louron and if you are conquered buy soap!
Infos-renseignements : 06 84 50 03 82 - www.lesavondeshadets.fr
Canyoning et Randos Pyrénées- Vallée du Louron, d'Aure, Luchon and Spain

For the 2018 summer season, Vincent Rivière mountain guide and state-certified canyonist invites you to canyoning for all in the Pyrenees, French (Louron, Aure and Luchonnais valleys) and Spanish (Sierra de Guara, Mont Peru) Monte Perdido, Punta Suelsa). Practice the canyon safely regardless of your level, from discovery canyoning, Canyon Initiation oriented pleasure to more technical canyoning (Sports Canyons and Canyon Grande Course) for the perfecting.
Canyoning activity for all: Individual, Groups and Families

Informations Canyoning Pyrénées (Louron - Aure - Luchonnais - Spain Sierra de Guara) : randos-canyons-pyrenees.fr