First speaking snowfall on Peyragudes!
Updated: Sat 27 Oct. 9:55 am:
Well, no, they are not the week-end webcams of Peyragudes, first sight of Cap de Pale taken at 9:30!





The ceiling rises a little early in the morning and we see Peyragudes in white to the bottom of the station. This is just the beginning ! Small photo in stride!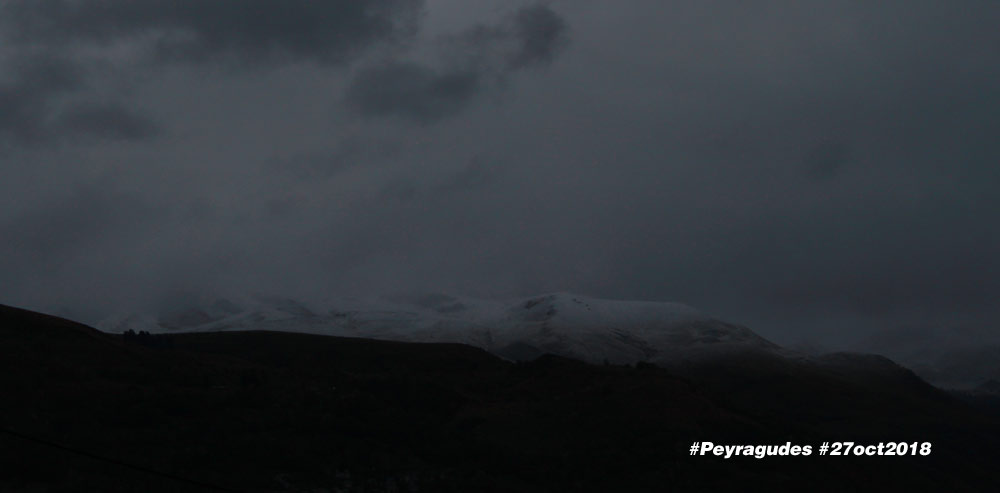 End of the party for the fall? Maybe not, but the small disturbance in course this Saturday in Peyragudes, announced in 3 days with snow and cold, it seems that the conditions begin to establish the sublayer necessary to maintain a good snowfall in the length of the station. Everything will depend on the snow, knowing that the still hot ground will pump some of it ... Peyragudes webcams seem weekend, until Monday?

A look at the weather forecast for the coming days.
What's new on Peyragudes and surroundings for 2018/2019
On the domain, a new green slope, open Agudes side accessible since the arrival of the TSD Serias ...


Will runway 007 be open or not?
Closed last season because of disagreement between the town hall of Loudervielle and the resort of Peyragudes. Disagreements concerning the financial compensation paid by the operators of the Peyragudes estate to the municipality of Loudervielle which owns the land where runway 007 is located. The Mayor of Loudervielle, represented by his mayor Catherine Carmouse, a lawyer by profession, considers that the agreements already in place must be reviewed in order to redefine the compensatory amounts calculated more than 30 years ago.